Empowering dialysis users and caregivers
| | | |
| --- | --- | --- |
| In case of emergency | | |
Make sure you take all of your key telephone numbers with you - your centres at home, and abroad, your family number, insurance company details and travel agent.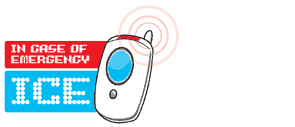 Have you put ICE in your mobile?
In Case of Emergency, would the police or ambulance service know who to contact?
8 out of 10 people in the UK don't carry next of kin details, but 80% have a mobile phone.
Simply type ICE plus a contact name and mobile number to help the emergency services help you.